NEWS
Future Vision – Wan Chai Connect Architectural / Urban Design Concept

DCMSTUDIOS ARCHITECTS have conceived a world-class urban design vision for the future of Hong Kong, one that draws inspiration from the New York High Line and a new wave of people-centric and socially responsible developments that are now emerging within the world's great cities to bring a brighter environmental future.
An exciting and unique development opportunity has now arisen with the Hong Kong Government's recent announcement that in 2021 they will publicly auction the site of their major office complex on the northern side of Gloucester Road in Wan Chai. This effectively signals the future re-development of the three architecturally uninspiring office towers and a fire station currently located on a site that is arguably the largest and most strategically located in all of Wan Chai.
More importantly, this site also sits front and centre to the most significant challenge to Wan Chai today – the eight lanes of an impassable highway that today dissects Wan Chai into two separate districts.
Since the early 1970's this highway has not only left the original and historic districts of Wan Chai totally detached from their 200 year old legacy as one of the most central and notable waterfront districts of Hong Kong, but it has also curtailed its true potential and ability to open its Civic Heart to the north, thus precluding a greater and more dynamic connectivity towards the new landscaped public places and future promenades of the magnificent Hong Kong Harbour and Tsim Sha Tsui beyond.
"As the Conceptual Architects and Urban Designers for the Wan Chai Connect Design Group, we are charged with the responsibility to present a grander idea, a positive architectural and environmental intervention to reverse the catastrophic City planning decisions, so typical of the Seventies, with a visionary urban design solution that will deliver a positive and exciting social catalyst for the future development of Wan Chai in the years ahead."  James Gibson, Managing Director at DCMSTUDIOS ARCHITECTS.
By redefining the city's skyline and regenerating one of Hong Kong's oldest districts, the Wan Chai Connect concept should not simply deliver the Government's base desire to extend the existing conference centre and provide new Hotel and Commercial space, but it will also do so together with a third Super Tower for Wan Chai and a much needed public entertainment venue, all centred on what will become the largest "public" open space created on the island for over 20 years.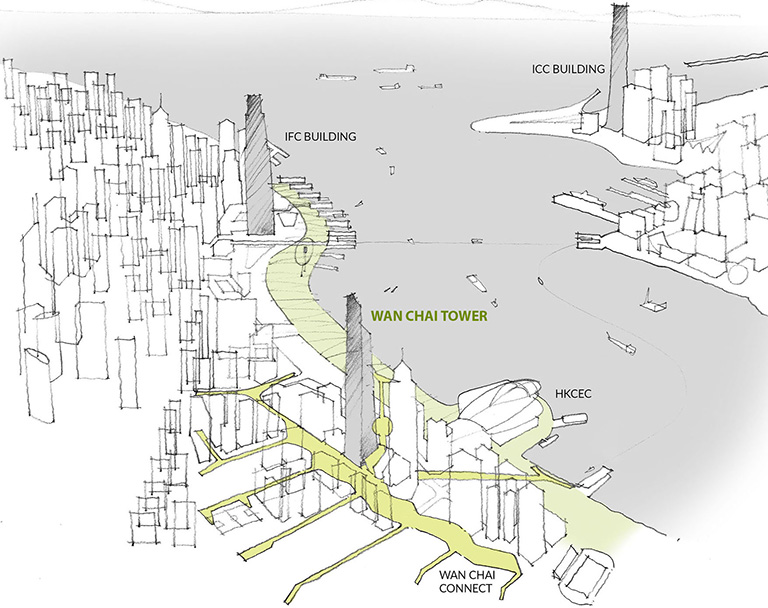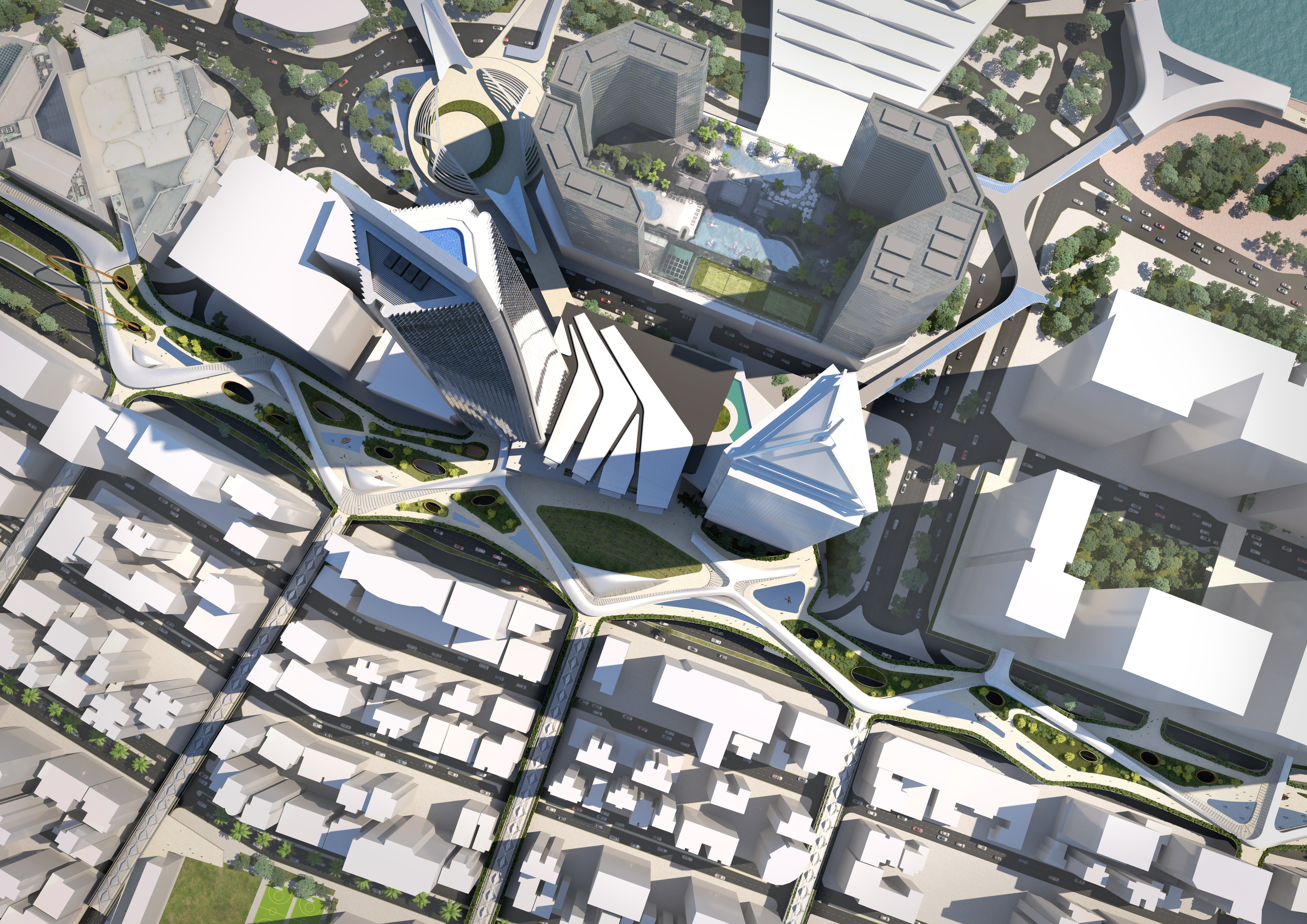 Wan Chai Tower
At over 100 floors and 450m tall the new tower complex of hotels and mixed commercial facilities will, together with the IFC and the ICC, complete the trio of "super tall" buildings, forming a grand portal to Hong Kong Harbour. With its efficient square plan and core, the tower floor plate is rotated through 45 degrees over it's entire height resulting in an elegantly sinuous profile. This profile is enhanced by a diagonal blade which appears to slice the tower from its base to its crown where its full expression emerges as an extension to the perceived verticality of the form. The facade of the tower is further articulated by a faceted glazing system which allows for the proposed introduction of energy harvesting poly-solar panels and glazing into a zero energy facade composition. The top twenty floors will contain a spectacular 5 star hotel location enjoying breathtaking 360 degree views of the Island, Hong Kong Harbour and the Kowloon Peninsula beyond.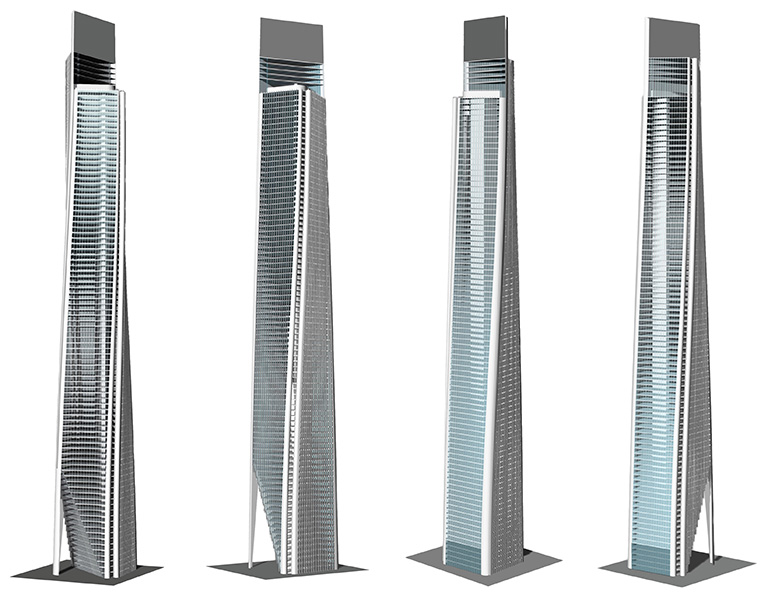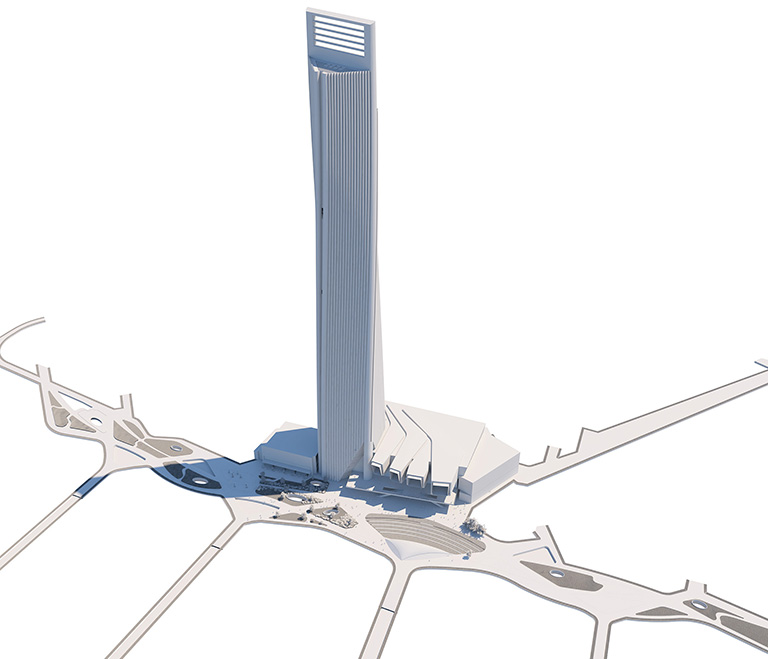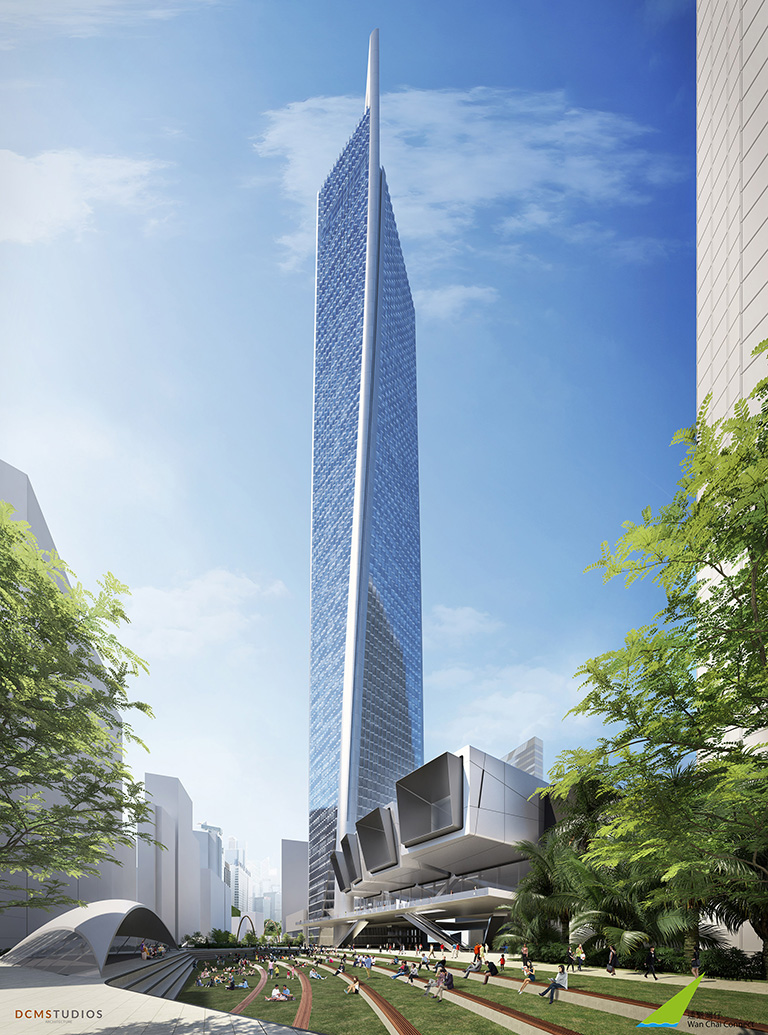 A New Public Space
Central to the master plan is the creation of a grand landscaped avenue metaphorically floating as an elevated garden promenade above the traffic and noise of the central highway of Gloucester Road. Interlaced with shaded walkways, lawns, fountains and public art, this sustainable ribbon of parkland appears as if from nowhere to provide the ultimate solution to reconnect the historic Wan Chai district with its previously disconnected counterpart, North Wan Chai.
"The creation of a new linear park over Gloucester Road where once there was only a chasm of traffic, provides a singular opportunity to create an essential sanctuary within Wan Chai to complement and sustain its historic urban character. Conceived in a grand scale, it will imbue a sense of place and delight to be enjoyed by the residents and international visitors to the heart of Hong Kong." Liam Ferguson, Director at DCMSTUDIOS ARCHITECTS.
This vision already has successful precedent being developed globally in many environmentally enlightened North American, European and Asian cities providing previously untapped social and economic benefits through this ambitious people-centric design approach.
The promenade deck is conceived as a perforated linear landscaped membrane providing natural light and ventilation to Gloucester Road below and retreating gracefully in deference to those important major buildings that now would overlook a green and better place for the very first time. Essentially a 'Central Park' of Hong Kong it will provide open air venues for live performances and public recreation within a sequence of landscapes, water features and pavilions.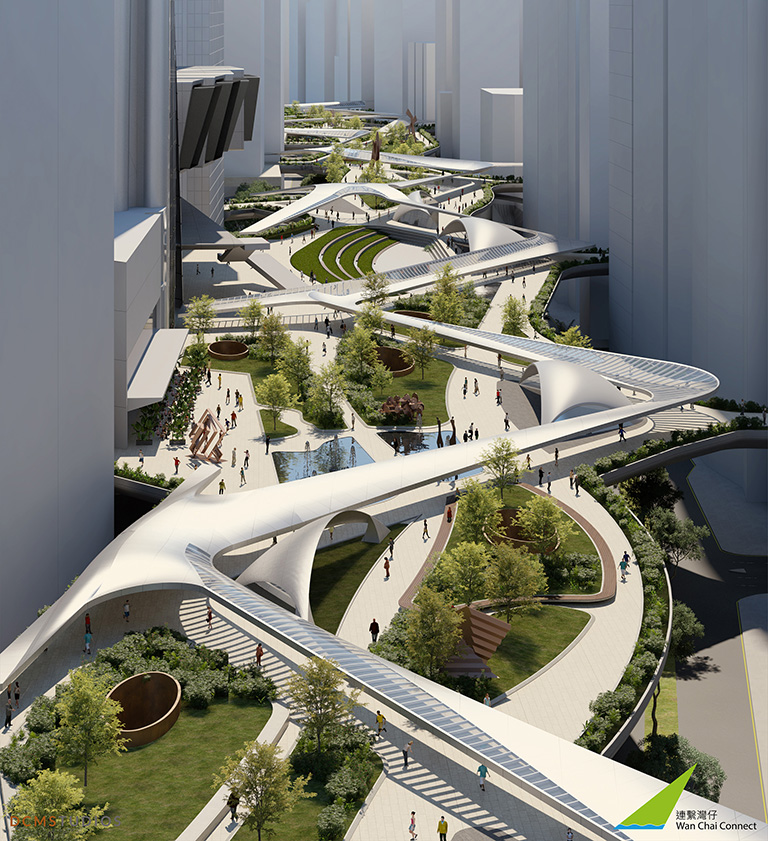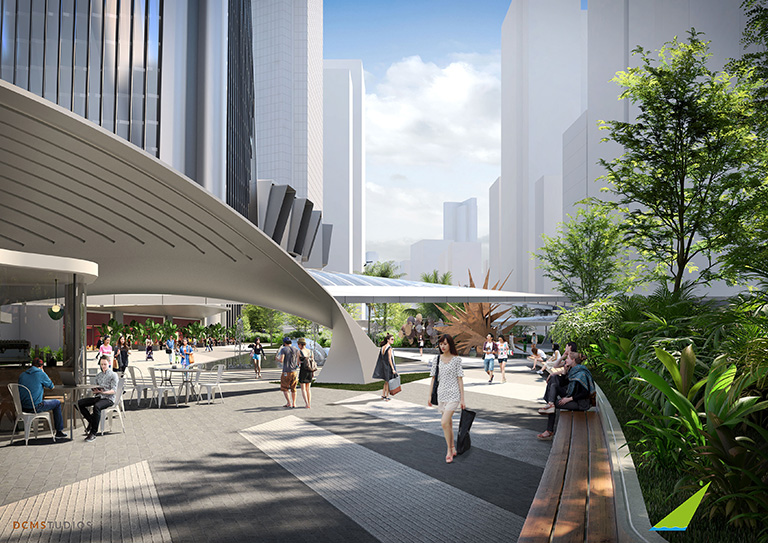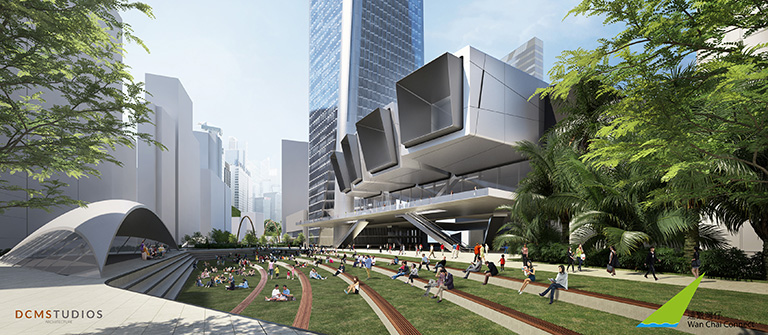 Wan Chai Connect Design Group
The Wan Chai Connect Design Group is a multi-disciplinary team of urban professionals who have a consultancy base in Hong Kong and who care passionately about the city. The group view this as not only an unmissable opportunity to restore Wan Chai socially, economically and environmentally, but also a rare, visionary opportunity to restore Hong Kong's position as a leading World City Asia.
DCMSTUDIOS Architects as a member consultancy of the Wan Chai Connect Design Group, are delighted to have been working with together with our partners at: Buro Happold, Currie & Brown, and Knight Frank. 
Lead Consultant
Multi disciplinary engineering
Sustainability Strategy
Buro Happold
Conceptual Architect
Urban Design

DCMSTUDIOS Architects

Cost Management
Currie & Brown
Real Estate Advisory
Knight Frank
Video and conceptual images are copyright © DCMSTUDIOS ARCHITECTS